Podrobnosti artikla
Podrobnosti
No matter if you are a private investigator, law enforcement, or concerned person, the Coffee Travel Mug Hidden Camera allows you to capture clear video out of somehthing no person would suspect was a camera. Just don't put in any coffee in the mug when you have the camera top on!

Just leave the Coffee Travel Mug Hidden Camera on a desk or table, point the camera at your area you want to record, and hit the start button.
Coffee Travel Mug Hidden Camera Features:
Two resolutions to choose from, 640x480 (VGA) or 1280x720 (HD)
Up to 3 hours 45 minutes or 225 minutes recording in VGA mode!
Fully Apple compatible
Records @ 30 frames per second
2 lids so if you loose one, you have a spare
All stainless steel, working insulated mug for hot or cold drinks
Portable
One touch operation
Here are some video samples of the Coffee Travel Mug Hidden Camera, right click to download to your computer:

The Travel Mug Covert Spy Camera is a great way to watch the home or office when you are not there, and using an optional 16GB SD Card, it will record for over 3 hours in HD video, and almost 4 hours in VGA! Fully Mac or PC compatible. Just upload your video with the included USB cable, and delete the orignals off the coffee mug spy camera.
With the 16GB SD card, in HD mode, 1280 x 720, we recorded 7 files, 6x 30 minute files that were 1.56GB each, and 1x 640MB file that was 12:17 minutes, for a total of 3 hours & 12 minutes! There was 5.87GB left, so the battery gave out before we filled it up.
In VGA mode (640 x 480), the camera recorded 3 hours & 43 minutes with 7x 30 minutes files that are 826MB ea, and a 13 minute clip that was 365MB. Since there is 1.81GB available, the battery gave out before we filled up the card.
Coffee Travel Mug Hidden Camera Specifications:
Mircro SD Card up to 16GB
Video Format: .MOV
Video Resolution: VGA 640x480, HD 1280x720
3.3 Lux
Field of View: 66 deg
Battery Life: 120min (HD) 180 (VGA) Mini USB 2.0
Camera: CMOS
Frame Rate Up to 30fps
Time and Date
Includes:
4GB micro card
Decoy lid
USB cable
Coffee Travel Mug Hidden Camera Instructions:
Before using, you must format the SD card. Insert it face up into the micro SD card slot after you charge the top in your computers USB port until the light goes off. Then, hold the Format button down for 2 seconds, and while still holding the Format button down, with another finger, hold the On button for a full second. When the blue light comes on, let go of the Format button and keep the On button down until the Red light comes on, then let go of the Power button. If successful, you can turn the unit on, and the blue light should stay on, indicating recording.
With the cover on, just press down the little nub for a second, and it will turn on. If you have vibrate on, it will vibrate once to let you know it's recording. When finished, push the little nub down for 2 seconds to turn off. It will vibrate twice, then turn off. That's it, easy, 1 button recording.
- See more at: http://www.eyespypro.com/products/Coffee-Travel-Mug-Hidden-Camera.html#sthash.xcfULmq0.dpuf
For those that desire a bit different design for their covert recording new innovative product from Lawmate might be what they are looking for. Polished aluminium flask with a hidden recorder and a camera at the top of the device will serve well in various settings, that includes home, business or leisure environments.
HD quality sensor, the same low sensitivity sensor that is present with Lawmate PV-RC200HD and PV-50HD DVR cameras

Nice looking brushed aluminium flask that can be used to carry liquid. (Due to sensitivity of the DVR very hot liquids should not be used with this flask while DVR is attached.)

HD/VGA switch to increase quality/recoding time, vibration ON/OFF switch

A well-crafted covert DVR with a camera lens placed in a way it is hard to notice

Integrated microphone & audio recording (all LM DVRs from our web shop record audio)
Basic Specifications:
Video resolution: 1280*720@30FPS
Photo Resolution: 2952*1944
Video of Angle: 66°
Memory: up to 16GB SDHC
Battery lifetime: ~200 min.
Dimensions: d-66mm * 165mm
Weight: 276g
Item name: PV-LD10
Camera: 1/3.6" progressive CMOS sensor (5MP)
Video resolution: VGA (640X480) / HD (1280/720)
Sensitivity: 3.3 Lux @ F2.8
Lens F/No. F2.8
Lens Diameter 4.09mm
Lens Angle: 66 °
Video Format: MOV
Frame rate: 30 fps
Memory Type: Micro SD Card(up to 16 GB SDHC) – will work with up to 32 GB SDHC with some SD card brands.
Data Interface: Mini USB 2.0
Data / Time Table: YYYY/MM/DD, HH:MM:SS
Working Hour: Continuous recording 120 min(HD) / 180 min(VGA)
Power consumption 190mA-390mA
Power input: DC 5v
Battery Capacity: DC 3.7v / 1100 mA Li – Polymer battery
Dimensions: d-66mm * 165mm
Weight: 276g
Camera integration:
It is in the detail on the Flask camera that otherwise looks shine and glossy where the camera is covertly hidden. Below the top edge of the flask cover there is an unevenly textured black ring where the camera sensor is placed. The only way to spot it is to take the flask in the hand and know what is that you are trying to find and where to look for.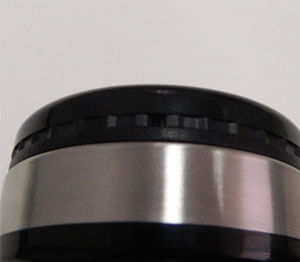 Camera sensor is visible in the mid of the picture
HD/VGA Switch
While perfectly capable of recording HD videos, with an HD/VGA switch it is possible to set up the camera to record in a lower resolution as well. While lower resolution will provide lower quality recording it will also lower the consumption of the DVR and prolong battery life by 50% up to 3 hr from initial 2 hrs. of HD recording. Same as with battery more recorded video will fit on the SDHC card in the DVR allowing the device to be more flexible in its application.
3 LED status indicators
Once opened and being set up for use 3 LED indicators used for easier operation are visible. Green LED shows if battery is being charged, Blue LED indicates if the power is on or the battery is low and finally RED LED shows the user when DVR is taking picture / recording video.
While certainly not a big technical solution (unlike great camera sensor of this device), the ability to quickly and reliably test device before use is often times lacking with covert video recorders.
PV-LD12 Illustration (Name and parts)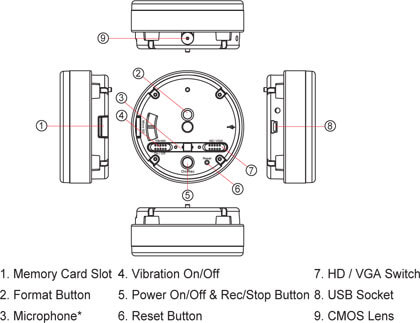 Illustration from the quick guide
How to use – quick setup:
Unscrew and carefully open up the DVR lid

Insert micro SDHC card into memory card slot (fig. 1 in the illustration)

Set up Vibration ON/OFF and HD/VGA switch as you desire (fig. 4 and 7)

Press the Power ON/OFF & Rec/Stop button (fig. 5)

Screw the DVR lid carefully back on top of the DVR while aiming the dot at the white mark arrow (visible at the side of the DVR)

Press the triangle that has a visible dot on it at the top of the DVR lid in order to start recording
Quick manual and specifications sheet is available for download below.
12 months warranty.
Dodatne informacije
Dodatne informacije
| | |
| --- | --- |
| Blagovna znamka | Ne |
| Paket vsebuje | Ne |
Ocene
Dostava
Brezplačna dostava za vsa naročila.
Naša stranke se pogosto ne želijo izpostavljati in zato pakete pošiljamo diskretno (neoznačeni paketi).
GLS vam ponuja prilagodljivo in zanesljivo dostavo. Dostavljalec vam bo paket dostavil na izbrani naslov, pred samo dostavo pa vas lahko tudi pokliče in se z vami dogovori za ustrezen termin dostave. V primeru, da ob predvidenem času dostave ne boste na izbranem naslovu, se lahko z njim dogovorite za kasnejšo dostavo, za dostavo na drug naslov (tja, kjer se trenutno nahajate, do sorodnika ali soseda...), ali pa za dostavo paketa v 'Parcel Shop' v bližini vašega doma. V 'Parcel Shopu' vas bo paket čakal na prevzem, mnoga od prevzemnih mest pa so odprta celo 24 ur na dan. GLS vam bo tako paket dostavil skladno z vašimi željami.
Pomoč
Potrebujete pomoč pri naročilu?
Pišite nam info@spyshop.si
Pokličite ali pošljite SMS na: 051 704 555 ali 041 869 881
Mogoče vas bi zanimalo tudi: